I love trips to the library. Today I came home with a bundle of goodies and a 16 inch receipt :) From Better Homes and Gardens to Birds and Blooms, I became inspired to liven up my deck and my furry little friends feeders. But one magazine in particular grabbed my attention. I was inspired by every project and excited to see how easy they were to duplicate.
You will love this magazine - I promise (if you're like me, that is :))
Check it out at your local library. (If you live near me, i'll have all the issues in stock back in 3 weeks... lol)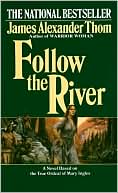 Overview: Mary Ingles was twenty-three, married, and pregnant, when Shawnee Indians invaded her peaceful Virginia settlement, killed the men and women, then took her captive. For months, she lived with them, unbroken, until she escaped, and followed a thousand mile trail to freedom--an extraordinary story of a pioneer woman who risked her life to return to her people.
This story grabbed at my heart, and I couldn't put it down until the last page was read!
Another obsession I have (much to my hubby's embarrassment) are wall decals. I haven't purchased any but am frantically looking for the perfect first one! Check out Graphic Spaces for some lovely ideas :)
So it's HOT here. And although I am grateful for each day God gives me, I am not grateful for this heat.... I am; however, thankful for the change in seasons. My favorite months of the year are September, October and November. I am not a summer girl - the beach, water, and tanning, don't make my heart flutter one bit. (maybe that's because I don't tan but freckle...and am fearful of skin cancer) But fall has a special place in my heart. We get along quite nicely. Pumpkins, mums, fall foliage, comfort food, the harvest and cool evenings. Now I AM thankful for that! Just not this heat. Lord forgive me....